Welcome to Read4life.com, featuring the creative talents of published Australian author, Magda Jozsa.
The aim of the site is to showcase Magda's new original books, selling in print for the lowest possible prices that the publisher allows and as eBooks at incredibly low prices (0.99 to $2.99) to encourage you to give her work a try and get hooked. Her characters are individual and memorable, and her tales are addictive! She's a versatile writer with a variety of stories from her award winning nursing thriller God's Disciple to her best selling Sherlock Holmes books or her Neptune King detective series. More recently she's added a contemporary romantic mystery series set in Melbourne Australia into the mix and she's been branching out to general crime fiction in her latest offering Natural Progression.

Big things happening in the new year. As you can see, the website is undergoing a metamorphasis in celebration of having over 4000 visitors in the past year.

Soon all her books will be available in both print and eBook format. She's a prolific writer so there will be more new novels hitting the shelves in 2016.

Good news: discounts are now available for print books bought direct from the publisher on nearly all the books. Check out the site, because some of the Ebooks are actually cheaper from the publisher than from the online bookstores.

The cheapest prices are highlighted, whether they are from the publisher or the retailer. In this way we hope to bring you the best deals possible. Keep checking back for discounts and the latest books. New releases will now be featured on the front page so you will know at a glance when new books are out. Still aiming to add more pages (it has been on the back burner for a while) to include book reviews, and on the wish list is to have an interactive page where visitors to the site and fans of Magda can leave comments and get a response direct from the author.

Life got in the way in 2015 so the books were few and far between, but Magda is now back on track with 3 new books for this year. See below. Don't forget, if you visit and like her books, please like her on facebook.


---
The book videos for God's Disciple and Introducing Neptune King were done by the multi-talented graphic artist, Adam Parsec.
To download his free graphic novel, Alien Rain click on the link opposite.

---

Thank you for your visit. Don't forget to like this site on facebook. Your vote would be greatly appreciated.

---

AUTHOR BIO

Magda Jozsa was born in Ballarat , Australia in 1962 and now lives and works in Melbourne as a Registered Nurse. She has been writing since she was 15 when she had a short piece published in The Woman's Weekly. She won the Gardenia Press Writing competition with her first novel, Nursing thriller God's Disciple and Introducing Neptune King received an Honorable mention in that same competition. She also took out first prize for a sci fi story competition in the Star Trek fan magazine.

She's been writing on and off for the last 20 years, having to take time out for long stretches to care for ailing family members.

She has long been a Sherlock Holmes fan as is evidenced by her best selling Sherlock Holmes books, and also her Neptune King detective series has hints of Sherlock in them. She loves reading westerns, mysteries, science fiction and crime fiction so it was only natural that she would end up writing them. To date she has written some 35 novels, with number 36 on the way. She is quite a prolific writer and writes for pleasure not for profit, getting as much enjoyment from writing the books as she hopes her readers get from reading them.

Her nursing thrillers are rich with realism thanks to her 30 years of personal experience, while her mysteries keep you entertained as she often interjects touches of humor into her stories. However, her greatest asset as a writer is her natural ability at characterization. The characters she creates are endearing and very human -- none of this political correctness in her books, nor unbelievably perfect heroes and heroines. Her characters sometimes make mistakes, sometimes they say and do the wrong thing; that is what brings them to life and allows you, the reader, to relate to them. It is not uncommon for her fans to talk about the characters as if they truly exist.

An all round entertaining author, who is well worth the read. I guarantee that once you start reading her books, you won't be able to stop.



---

---

NEW RELEASES



NEPTUNE KING AND THE MYSTERIOUS MONK
Neptune King and the Mysterious Monk is the 27th book in the series. They're hired by Friar Luigi, a Capuchin monk from a monastery in Devon. Ever since a collection of rare books, diaries and manuscripts arrived at the monastery there has been strange goings on in the night. Each morning they find the library in disarray; the books scattered about or misplaced and sometimes strange noises in the night. When they go to investigate they find nothing and no one. This is puzzling enough, causing some of the monks to believe there is a poltergeist in their midst, but when elderly Friar Matteo is found dead at the foot of the stairs, his skull stove in, Friar Luigi suspects foul play.
He travels to London to enlist Neptune and Shark's aid, which they are more than happy to offer free of charge. Neptune is ecstatic at this opportunity to disguise himself as a monk and go under cover in the monastery as Friar Benedict, while Shark backs him as a carpenter doing necessary repairs to the ancient monastery. As always they triumph in the end, but not without a close shave or two and also manage to solve a 160 year old mystery as well.

For more details go the the Neptune King page.

---

What People say about her books

As noted in other reviews, I have considered Magda Jozsa to be one of the very best writers of Holmes/Watson pastiches and had kept this particular volume next to my chair for an uninterrupted weekend. For a long, long time I had considered 'Sherlock Holmes on the Wild Frontier' to be the very best of the pastiches in my collection. Now that I'm closing in on 200 books in the genre, there is some debate as to whether she still ranks as #1 although her works certainly belong in the top fraction of one percent. - DrstatzThese are entertaining stories and make for enjoyable light reading - Rumple The Dentist -- From the Great Detective by Magda Jozsa was my personal favorite in this book. - AcerAcerThis is the first in the Neptune King series and I am definitely going to buy more. I'm hooked. - HollobrainRe The Adventures of Neptune KingIt is a pleasant book to read, interesting and not complicated at all by some of the unnecessary twists and complicated plots other authors feel they have to use. Well written and gives you a good feeling when you read it - Roy BaughamThe Bizarre cases of Neptune King: Suitably creepy with cannibals and necrophiliacs. Loved it - Cat Sinclair Sherlock Holmes and the Femme Fatales: This collection f stories is first rate with the usual unexpected elements you expect from Miss Jozsa's works. Her characterizations are spot on and even the long-suffering Mrs Hudson shows a side of her that added definite spice to a story. Mycroft Holmes also got to participate and I hope readers will get to see much more of this enigmatic individual. In short, way to rock, Ms Jozsa or at least until I read 'Return To the Wild Frontier.' Stay tuned.- DrstatzSherlock Holmes and the Femme Fatales: Interesting. Clever. Fresh. Although not your normal Sherlock Holmes and John Watson, it is close enough to canon to be believable. I look forward to more by this author. - Amazon Customer

This book is an excellent collection of interesting stories that remain essentially true to the canon, while having a slightly "edgier" feel to them that I found very refreshing. They put a subtle new light on our hero'. I read a great deal of SH pastiche, and in my opinion this is the best I've come across in quite some time. In sum, very highly recommended, an outstanding creative read at a bargain price. - Dan - Cleveland, Ohio.

---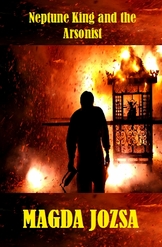 NEPTUNE KING AND THE ARSONIST

Neptune King and The Arsonist is the 26th book in the series. Neptune and Shark are as brilliant as always but is this
​the case that will ruin their hundred per cent success rate?
Neptune begins to fear that when they're hired by Mrs O'Shea to catch the person who killed her husband by setting fire to their house. In the course of the investigation they solve three other crimes and let the police take the credit. The stakes are high. This is one time both he and Shark come close to failure, at a time when it is imperative that they succeed.

For more details go to the Neptune King page.
---
---