SERIES SYNOPSIS: This contemporary romantic mystery series is set in the author's home town of Melbourne, Australia. Andromeda Fox is the son of a wealthy real estate mogul who idles his life away pursuing his passion which is art. Because his parents have already lost a daughter to a kidnapper they ensure he is protected by having a personal bodyguard in the form of security guard Mathilda Harris. When Andromeda (Andy) decides to move out, Mathilda has to come with him. Once they're actually living together they start to learn things about the other that they never knew. Mathilda has long had a crush on Andy, so she rather likes the new situation, hoping that the less formal surrounds might make him notice her. When Andy's father is targeted by a blackmailing killer, Andy takes matters into his own hands and ropes Mathilda into helping him find and stop the killer torturing his father. It's a growth experience for Andy and he finally starts to mature and take on responsibility, much to his father's delight.He also, much to Mathilda's surprise proves to be a rather talented artist and she convinces him that he should give up his generous allowance and make a living on his own using his talent. The pair's romance blossoms and they discover they have a penchant for crime solving.
ANDROMEDA FOX: Deathbringer Book 1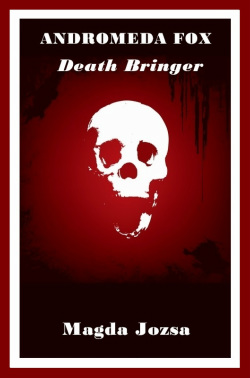 317 Pages
Deathbringer is the first book in the contemporary Andromeda Fox mystery series by author Magda Jozsa. Andromeda (Andy) is the son of wealthy real estate tycoon Chalmers Fox. He lives in a luxury apartment in St Kilda with Mathilda (Tildy) Harris, ostensibly employed as his bodyguard (Thanks to his sister having been abducted and killed some ten years earlier). He's a carefree irresponsible idler living on a generous allowance from his parents and indulging in his passion for art.
Then, when his father is targeted by a killer known only as Deathbringer, he and Mathilda set out to find Deathbringer's identity and protect Fox Senior. As his father isn't confiding in his family, Andy astonishes him by coming to work for him as way of keeping tabs on him and providing an opportunity to search his office for information. They learn that Deathbringer has a pay or die policy with direct threats made against the Fox family. During the course of their investigation they notice that at every money drop there is an elderly couple, nuns and schoolchildren, with the oldies at the top of the list due to their suspicious behaviour.
Seeming to fail at every point, they soon realize they are getting close when an attempt is made on Tildy's life. It is a mad dash at the end when Mathilda finally figures it all out, leading to a desperate dash across Melbourne to save the lives of Andy's parents. throughout it all, Andy & Mathilda start to see each other in a different light and Andy surprises everyone by becoming a responsible mature adult much to the delight of his father.


---
---
---
To claim discount, click on link to publisher, click on Add to Cart, at the bottom of this page, type in or cut and paste code into Apply Discount box and go to check out. The discount will show on your final total.
---
ANDROMEDA FOX: Art for Art's Sake. Book 2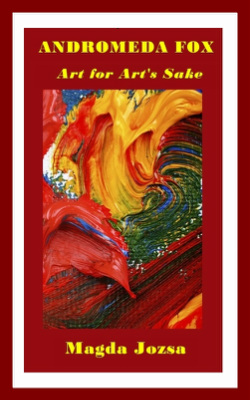 342 pages
In this the second book of the Andromeda Fox series, Andy and Tildy are now living together as friends rather than employer-employee. Andy is learning to live to a budget now that he is working for himself and no longer collecting his allowance. To save money he buys a bunch of used canvasses to paint on. Mathilda is back working as a security guard for her father's company and her policewoman friend, Jenny is investigating a spate of senseless burglaries where only the occupant's artwork is vandalized, with nothing apparently stolen.
Meantime, Andy is busy putting together a collection of paintings for his first exhibition, which proves to be a huge success. His joy soon turns to dismay when the art gallery is broken into and his paintings are stolen. It doesn't take Tildy long to make the connection between the art gallery thefts and the senseless burglaries, especially as one man calling himself Brian Westlake seemed particularly interested in the paintings Andy did on used canvasses.
When Mathilda's father is shot thwarting a burglary, Tildy falls apart and straight into Andy's arms. He proves his affection, his reliability and his courage as he comforts her, takes over the running of the Harris's business and turns the tables on Westlake when that villain forces him at gunpoint and the threat of taking Tildy's life to clean the masterpieces hidden under another painted work. All this death and violence, all for art's sake.


---
---
---
To claim discount, click on link to publisher, click on Add to Cart, at the bottom of this page, type in or cut and paste code into Apply Discount box and go to check out. The discount will show on your final total.
---
ANDROMEDA FOX: A Friend in Need. Book 3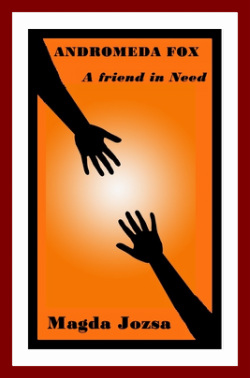 This is the 3rd book in the Andromeda Fox series. Mathilda and Andy have finally paired up as a couple. Andy wants to treat Mathilda on her birthday and takes her to the snow for a long weekend, hoping that they will cement their relationship with a physical commitment. To Andy's delight, Tildy is willing and just as he is about to…make history…they are interrupted by a phone call. Tildy's friend Jenny has become a victim of the serial rapist targeting young policewomen. She's seriously injured and close to death. Tildy is the closest thing to family Jenny has so naturally she puts a stop to their lovemaking and wants to return home immediately to be with Jenny.
When Jenny is finally released from hospital she moves in with them as she's traumatized and afraid to be on her own. Andy is fairly tolerant at the start, but Jenny is something of a nuisance houseguest, intruding upon him when he's trying to paint in his studio. Tildy's back at work by this time, so it's poor Andy that has to cope with her volatile mood swings and emotional upsets. Add to that that Jenny is seriously cramping his style and he has no privacy with Mathilda, he's in for a miserable and frustrating time.
Mathilda seeing how upset he is suggests they have a go at catching the rapist themselves, and he's all for it. Anything to get Jenny out of the house. It's no bed of roses for Mathilda either as she had a taste of what Andy could offer at the snow and is feeling as frustrated as he. With a lot of coaxing she manages to get Jenny to talk about her attack and they pick up some new clues that she'd blocked from her memory after the attack. Part of their plan to get Jenny back to work is to enlist the help of her superior, Detective Senior Sargent Norman Oldfield, whom Jenny has long had a crush on. It works, and he convinces her to come back to work. With Jenny having access to police records again, they're back in business and start investigating possible suspects. It all comes to a head when the rapist turned killer (as one of his victims had died) targets Jenny again as she is the only person that can identify him. This time Jenny is more prepared and puts up a fight with Mathilda to back her. He doesn't stand a chance against two tough ladies. Much to Andy's delight, Jenny moves out to become a housemate of poor unsuspecting Sargent Oldfield, and he and Tildy finally get some time alone together.


---
---
To claim discount, click on link to publisher, click on Add to Cart, at the bottom of this page, type in or cut and paste code into Apply Discount box and go to check out. The discount will show on your final total.
---
ANDROMEDA FOX: Kidnapped. Book 4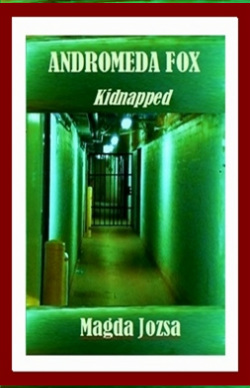 Kidnapped is the 4th book in the Andromeda Fox series set in contemporary Melbourne.
Mathilda enters Andy's painting Sleeping Angel in an art competition to be held in Sydney. He's delighted and so is she, as she thinks that for once they'll be able to have a peaceful holiday away, seeing as how their last attempt failed miserably.
Their first couple of days in Sydney is fine, until Andy goes to collect some ice from the machine in the hotel corridor and never returns. Tildy fears the worst and hunts for him but comes up empty. Returning to her room she finds a note under the door demanding she contact his father.
Chalmers Fox hurries to Sydney on her call. He prefers to keep his wife in the dark as she fell apart the last time when they lost their daughter to a kidnapper. This time he has every intention to follow the kidnapper's demands to the letter and keep the police out of it.
Little does he know that the police have been after this particular kidnapper for the last ten years and when they learn he has withdrawn a million dollars in cash, they bug their rooms and listen in with the intent of arresting the kidnappers when they collect the ransom. This almost costs Andy his life, and it is only thanks to his clues and Mathilda's investigative ability that he is saved in the nick of time.
Even Mr Fox gets in on the action once Mathilda informs him his son is safe. He takes out the kidnapper personally, grimly motivated when he learns that this is the same man who murdered his daughter eighteen years previously.


---
---
To claim discount, click on link to publisher, click on Add to Cart, at the bottom of this page, type in or cut and paste code into Apply Discount box and go to check out. The discount will show on your final total.
---
---